First things first. All of your marketing efforts, including a marketing calendar, work better with a marketing strategy and plan. Marketing strategies and plans need not take weeks of research or investment but if you are running your tourism business without a strategy or plan, please let us know.  Agency can help you start one today.  Now on to building your marketing calendar. 
There are many recommendations online which you are encouraged to explore.  Why? Because one method may spark an idea or perhaps multiple methods will best align with what you need to do for your tourism based business. The method below is simple and will provide you with pragmatic marketing ideas that you can implement throughout the year.
STEP 1:  Sometimes, old school monthly wall calendars you can write on provide better visualization than spreadsheets or online calendars. If you prefer an online tool, AGENCY recommends an online project management tool and there are templates specifically for marketing calendars, like airtable.com. The bottom line is to work with a tool that helps you create schedules and plans that you are comfortable with.
STEP 2:  Write down your destination/attraction/lodging seasons, events, promotions, etc. For example, if you are a city that offers historical walking tours from May to October, highlight those months with that attraction. In addition, during the month of October you may offer a themed night walk focused on ghosts or haunted homes. This, too, would be highlighted within your regular season. 
STEP 3:  Are there concerts, festivals, or does another attraction have anything special going on? Let's continue with the historic walking tour example: Let's say there's a "Taste of the Town" event in the middle of May. This event should be noted on your marketing calendar.   Perhaps there's also a fireworks show on the night of July 4th. Note this as well. You'll see why this is important as you move along in the process.
STEP 4:  Write down seasons and holidays; bonus if your destination and or attraction has international visitors. What holidays or seasons does that particular country or culture recognize? Write those down, too. Our walking tour  will note:  summer, 4th of July Holiday, Memorial Day weekend, Labor Day, and Halloween.
STEP 5:  Tap into your customer/guest by developing a personal life event list. This does NOT go on your marketing calendar but instead is a list that you note on the side of your calendar. The list may include the following: birthday, weekend getaway, summer break, your visitor's anniversary, family reunion, etc. Why should you care about your customer's personal life events? Read on…
STEP 6:  Review your calendar. Can you create a relationship between your tourism service and a community event, holiday or your customer's personal life event? Write down all the various combinations with the dates. For example, the walking tour operator notes that they are running two walking tours on July 4th, a national holiday. The community is sponsoring a barbeque in the park followed by fireworks. As you can see, the possible combinations of events that relate to your product can become quite long but generating the ideas can be fun! Now it's time to narrow them down.
STEP 7:  Based on your business needs, what are the top 5, 10 or 20 products and services that you want to market? For each one, answer the following: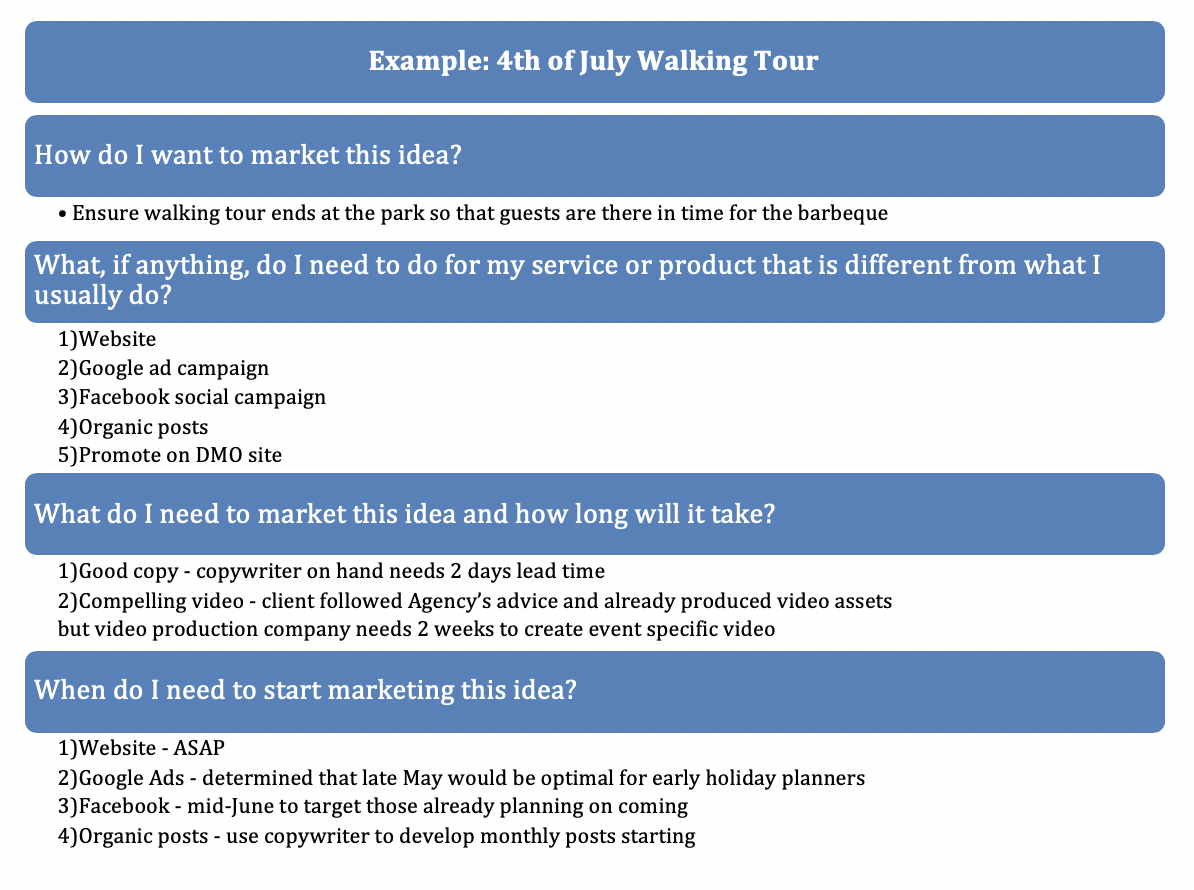 STEP 8: First, write your marketing campaign start dates on your planning calendar. Also write down the marketing channel you'll be using. Then refer back to Step 7. What does this campaign need and how long does it take to acquire those marketing assets? Count the number of days, weeks or months from the start of that particular campaign and note that on your marketing calendar. The walking tour decides that on February 1st they will have the 4th of July walking tour on their website and makes a note on the calendar to assign the copy to their copywriter on Jan 25th. On February 15th, they assign their copywriter the task of sending copy to the DMO for the summer calendar. They also decide that they'll publish the walking tour post on Memorial Day, which falls on May 25th in 2020 so they add this to the calendar. On April 2nd, they note on their marketing calendar that they'll host a conference call with their video editor to begin creating the event video.
Drum Roll, Please
YOU'VE JUST CREATED MARKETING CONTENT FOR THE YEAR! As you can see with the imaginary walking tour, the ideas you can generate about  what to market and how are countless – and fun!
Prepared by Christian Robbins, Senior Marketing Strategist.