GIFs have great versatility for digital marketing. They are eye-catching, loop automatically, usually have a small file size, and they look great in an email or on a webpage. 
We already talked about how to make a GIF sideshow, but maybe you've got a video that you want to make into a GIF. We recently launched an itinerary planner on Alamosa.org and we used a GIF to demonstrate how to use the planner, and also to show it off a bit. Here's how we did it:
Take a screen recording of the product in action. There are many apps available to do this, or you can use the native features:  In a Mac, hit shift+command+5 to bring up the screen recording options. Windows 10: Windows-key+G.  I recorded only a portion of my screen to cut down on size and later editing. 
Upload that video to ezgif.com. There are a lot of free online converters, but this one has a lot of options and adjustment to help reduce file size and retain quality.  
Adjust the speed. I sped my screen recording up to about 1.3 times "normal." This will shorten the video to make a faster loop and it will also decrease the file size. You can and should mute the video in this stage.
In the 'video to GIF' section, you can edit the video, choose a size (we chose 480px wide at 5 FPS). You might have to do some experimentation here to see what looks best for your video.
When you've got it at a reasonable file size and looking great, save it do your computer for use in your next project.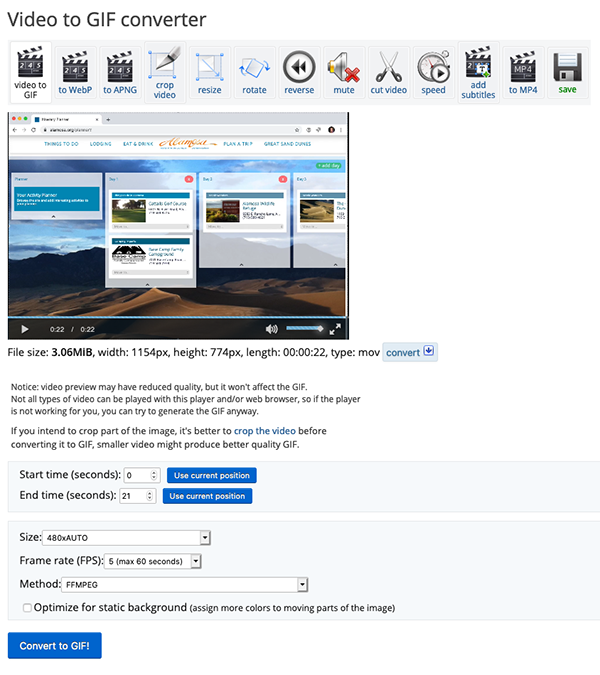 In this example, the 29-second, 16mb screen recording video and ends up being a 21-second, 3mb GIF. We've got it on the planner page, and it will also be used in email marketing campaigns. Let us know if you have any questions or want us to create one for your product!